×
Former President Jimmy Carter gives details of his treatment plan, including infusions of an immunotherapy drug and radiation therapy, during a news conference. (Photo by Jack Kearse, Emory University)
×
Dr. Walter J. Curran, Jr. answers questions after former President Carter's news conference. Curran, executive director of the Winship Cancer Institute of Emory University, is one of a team of doctors caring for Carter. (photo by Jack Kearse, Emory University)
When my grandmother was diagnosed in the early 1980s with melanoma, then told that it had spread, there was little that could be done medically but keep her comfortable.
That's changed. Therapies available now offer dramatic improvements in the quality of life for people whose cancer has metastasized, and maybe even a cure.
Those cutting-edge therapies are part of the treatment regimen that former President Jimmy Carter is receiving as he battles melanoma that has spread through his body.
So far, Carter, who turns 91 in October, has had a tenth of his liver removed and has undergone radiation treatment for cancerous lesions in the brain. He's also undergoing immunotherapy treatment with a drug, Keytruda, that enhances the works of the immune system in slowing or stopping the spread of cancer. The drug apparently targets genes that would otherwise let tumors escape detection by immune system cells.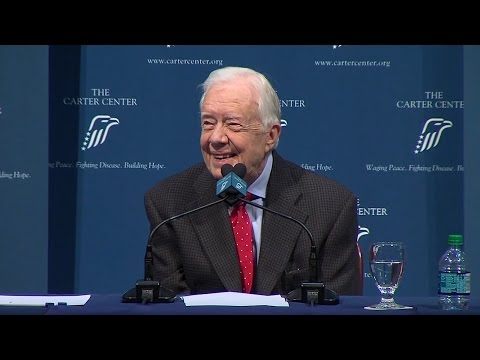 Carter discussed his condition in a news conference on Aug. 20, and talked about the treatment he's receiving at Emory University's Winship Cancer Institute in Atlanta, a premiere facility much like the VCU Massey Cancer Center. Doctors say that the treatments offer no cure for Carter, but may enhance the quality of life for the otherwise vigorous and healthy former president.
Carter is sublime in his reaction to his diagnosis: "I was surprisingly at ease," he says during the news conference. "I've had a wonderful life, I've had thousands of friends, and I've had an exciting and adventurous and gratifying existence. Within the bounds of my own judgment, I'll do what the doctors recommend for me to extend my life as much as possible."
He has reason to be optimistic, according to Dr. Giao Phan, melanoma expert and associate professor at the Massey Cancer Center. She's a longtime researcher in immunotherapy, with a stint at the National Cancer Institute prior to joining Massey.
"It's a big, exciting field in the cancer world," she says in a telephone interview. Phan discussed how immunotherapy has become a prime weapon in the treatment of cancer, and some of the issues that must be faced in determining a treatment regimen for a particular patient.
She explained that there are two pathways for immunotherapy. One stimulates the immune system, while the other "takes the brakes off" the immune system by removing some hindrance to its working properly.
The therapy Carter is receiving is in the latter category, which works by acting on two genes that are keeping the immune system from doing the work at hand. The response rate on the newer drugs, such as those being used on Carter, is about 40 percent, she says, about double the rate of earlier generations.
The former president is in great health for his age, but anti-cancer agents can have severe side effects. The immunotherapy agents have the benefit of causing fewer and less severe side effects than other cancer fighters, according to Phan.
Enhancing his outcome chances is the fact that there are only a handful of brain lesions and they are relatively small. That enables his doctors to treat him with localized, higher dosage radiation, which has fewer side effects and a greater chance of success than more general radiation treatment at a lower dose.
Melanoma is the least common form of skin cancer, but the deadliest, and most likely to spread to other parts of the body. It forms in the cells that color the skin. You can learn the basics about the disease on the National Cancer Institute site.
Phan notes that in 2014, 76,000 patients developed melanoma. About 9,000 to 10,000 died last year or so. Its prevalence is increasing in the United States, rising about 2.3 percent each year since 1992, but the death rate from the disease has held steady over that time period, at about 2.7 percent each year. Virginia is a middle-of-the-pack state when it comes to melanoma, with an incidence of 16 per 100,000 residents who developed or died from the disease in 2012, according to the Centers for Disease Control and Prevention.
Melanoma can be deadly, but usually it can be detected before it has spread. Most patients can be cured through surgery alone, according to Phan.
In cases where it has spread, Massey doctors would likely suggest use of immunotherapy drugs, such as are being used to treat Carter. They may suggest earlier forms of the treatment, even going to the granddaddy of the class, interleukin 2.
It's an inpatient treatment, while the others are available on an out-patient basis, but doctors like to keep all options available and use what's base on a case-by-case basis.
In considering treatment, age doesn't matter as much as overall health. There are special considerations at an advanced age, such as Carter. For example, chemotherapy may not be a viable option for some people at an advanced age, because of the potential severe side effects.
As for the drugs, cost is also a consideration, Phan notes. Drugs that are FDA approved such as Carter is being treated with may cost six figures. They may be covered by most insurance plans, but the copay would still be prohibitive for many.
It's an exciting time in cancer research, and there are several promising therapies in the works, Phan says.
One especially promising field is cell therapy, which would basically mean that a cancer treatment is tailored to the individual. That's accomplished by taking your cells, engineering them, then growing them and infusing them back into your body.
"It's the epitome of personalized medicine," she says.