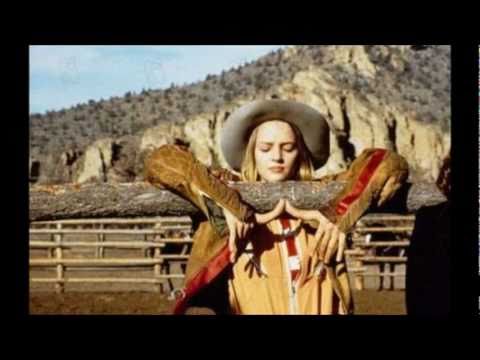 Last night, one of my favorite writers, Tom Robbins, showed up at my favorite theater, The Byrd, to introduce the movie made from his novel Even Cowgirls Get the Blues. Robbins is in town to pick up his Lifetime Achievement Award as part of the Library of Virginia's literary honors. My colleague Anne Dreyfuss recently spoke to Robbins about his return to Richmond, and the interview is well worth the read.
At the Byrd, Robbins acknowledged that not everyone who read the novel may like the movie, and that the two are separate creatures. Novelists tend to think of a film adaptation as their words with pictures, but due to time and budget constraints, this isn't the case.
When Gus van Sant called him, Robbins said, he was excited. He suggested — and one doesn't know if Robbins is serious here, or if he isn't serious, then if that means he really was — that the titular Cowgirls be cast from Chinese acrobats. That wasn't possible. In the novel, he describes Cissy's preternaturally large thumbs as everything from kumquats to eggplants to a baseball bat. "I wanted to leave it to the reader's imagination." But Uma Thurman wasn't into using various objects as thumbs, as he was apparently suggesting, though the prosthetics she was fitted with didn't quite work, either.
One of the faults of the film, Robbins said, was that it followed his book too closely, particularly in the dialogue, which is quite literary. The way the actors managed their way around the language came across as highly mannered. People don't talk like books. But their delivery added to the film's sense of fantasy and time out of time. Critics accused it of being too late. Women's independence isn't as provocative now as it was then, and thus the characters aren't as provocative. Still, given the present political climate and national conversation going on, the film's emphasis on women's rights or treatment of rare animal species doesn't seem as dated, at least to this observer.
But by 1994, the hippie-groovy early 1970s were subsumed and largely extinguished, that is, at least as a national cultural trend. Some of the adherents had retreated to their versions of the mountaintops where the novel's Chink observes the goings-on below at the Rubber Rose Ranch, dispensing his particular brand of wisdom. (Chink is played by Pat Morita in the film — in a turn on his Karate Kid mentor personae). Viewing the film in 2012, it seems even more unmoored from our universe, quite innocent, though elements of its plot — vigilantism for the protection of nature, female activism and gun violence — rhyme with the events of our day. There are some splendid scenes. A gunfight between the Cowgirls and federal agents is interrupted by everyone's awe over flights of whooping cranes. And the last few minutes, too, are downright poetic. But it takes a while to get there.
The soundtrack is quite good. Hearing kd lang again reminded me that I've not heard or seen her in a while. But as Robbins would say, "Onward!"