×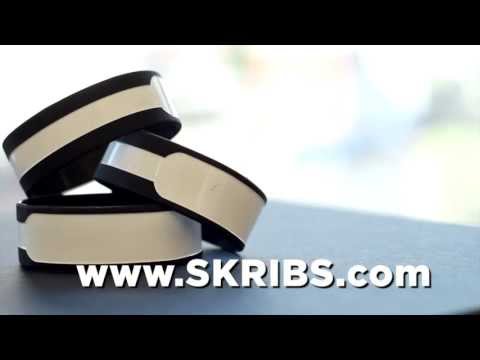 Update: VCU announced Nov. 8 that graduate student Tumi Oredein is one of two grand-prize winners in Walmart's competition. He won for products selling for less than $40. Oredein's SKRIBS will continue to be sold on walmart.com and will be introduced to the retail chain's merchandising team for consideration of sales in Walmart stores.Just as smart phones start to go the way of the Dick Tracy watch, a graduate student at Virginia Commonwealth University is hoping to take wrist-worn accessories in a more analog — and kid-friendly — direction.
Tumi Oredein, who's enrolled in VCU's da Vinci Center for Innovation, qualified as a top-five finalist in Walmart's "Get on the Shelf" competition for his DIY toy, the SKRIBS Customizable Wristbands.
SKRIBS are flat wristbands with an erasable surface that allow creatively motivated wearers to write or draw on it with dry-erase markers or ballpoint pens. With just a swipe of a finger or a tissue across the surface, the tiny canvas can be made blank again
Beginning yesterday, the competition opened up to a public voting process — the winner is determined by how many preorders he or she can generate on walmart.com. The VCU student's campaign hit a glitch early on though, delaying his product's pre-order launch to today.
Oredein's inspiration for SKRIBS came from his childhood love of drawing as well as the wristbands with slogans on them that were popular when he was in high school and college, such as the yellow Livestrong bracelets that came to symbolize cancer awareness. 
"I thought it would be a cool idea to allow kids to have a blank canvas on their hand at all times," he says.
Born in Nigeria and raised in Chesapeake, Oredein first developed the idea, and then sketches and prototypes, for SKRIBS in the spring of 2012, and he entered VCU's masters program in product innovation that fall. He had been working as a researcher and mechanical engineer, but he didn't have a true interest in the work he was doing. "I had a passion for invention," he says.
 Oredein entered the Walmart competition with a short video entry earlier this year — it was a last-ditch effort to get his product noticed after failed attempts to pitch it to other companies.
Oredein's video introducing SKRIBS and its potential was just one of a couple thousand entries into the contest. After multiple rounds of elimination, Oredein's SKRIBS is among the top five products left, and he is only days away from the finish line. Because of how far he has gotten, Oredein will definitely sell his product on walmart.com, but if he is the grand prize winner, he could receive marketing help from Walmart, and possibly have SKRIBS sold in the retail giant's stores.
Starting Oct. 29, the competition was turned over to the public, who can pre-order any of the finalists' products on walmart.com. The winner is not based solely on pre-order numbers, Oredein says, since some of the products cost hundreds of dollars while his costs $8.95 for a pack of three SKRIBS and a dry-erase marker. Oredein says that the company has a formula to determine the winner from pre-order sales.
These pre-orders will be the first sales Oredein brings in for SKRIBS, he says, noting that he was by far the youngest company with a product in the top five. Even if Oredein wins and can start selling his product in Walmart stores, he will also be able to simultaneously pitch the product to other stores.
Just being a finalist "provides you with clout that no one else can have," he says.
But for now, Oredein is not even sure what he will do next. "It's been such a whirlwind," he says. "I'm still trying to catch my breath." His main goal is delivering the product to those who pre-order by December. "We're trying to push it as the perfect stocking stuffer for Christmas," he says.