×
Photo by Lisa Marie Mazzucco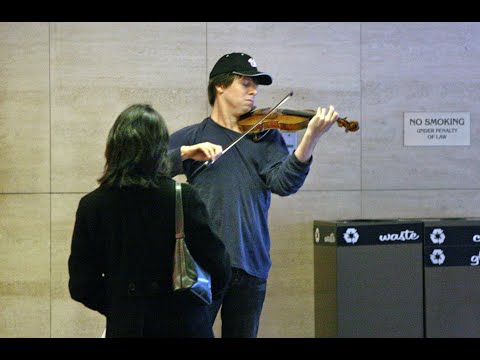 The Richmond Symphony's 2014-2015 season will start on Sept. 20 with a performance by virtuoso violinist Joshua Bell, who last played here in 1989, and include a Genworth Symphony Pops concert with New Orleans' Preservation Hall Jazz Band and Richmond's No BS! Brass Band on Jan. 31, 2015.
During an announcement at Richmond CenterStage's Rhythm Hall this morning, Steven Smith, the symphony's music director, said that Bell will play one of his signature performance pieces, the Violin Concerto No. 1 in G Minor by Max Bruch, along with Bedrich Smetana's symphonic poem Vltava and Ottorino Respighi's Fontane di Roma (Fountains of Rome) and Pini di Roma (Pines of Rome). Smith recalls hearing Bell play as a fellow student at the Eastman School of Music and thinking that "even as a student, this guy was going somewhere." Smith also says that he first heard No BS! Brass Band perform at the Richmond Folk Festival. "As soon as I heard them, I was completely blown away."
While we're talking about Bell, I have to point out a memorable experiment and article by The Washington Post's Gene Weingarten in 2007, when a casually dressed Bell played six classical pieces during morning rush hour at a D.C. metro stop unbeknownst to passers-by. The question being explored was, "In a banal setting at an inconvenient time, would beauty transcend?"
Among other highlights, for a performance of the works of Duke Ellington on Feb. 14, 2015, the symphony will be joined by the One Voice Chorus, the chorus of St. Paul's Baptist Church and the Richmond Symphony Chorus. "In my mind, he's one of the greatest American composers," Smith says of Ellington.
The Altria Masterworks series will also Mahler's "Resurrection" Symphony No. 2 in C Minor (Oct. 18-19); Tchaikovsky's Symphony No. 4 in F Minor, along with Richard Strauss' Horn Concerto No. 1 in E-flat Major, accompanied by Richard King, principal horn player with the Cleveland Orchestra (Nov. 8); and Rachmaninoff's Piano Concerto No. 2 in C Minor with acclaimed guest pianist Adam Golka (Jan. 17-18, 2015); Mozart's Piano Concerto No. 20 in D Minor with guest conductor Tito Muñoz, music director of the Phoenix Symphony, and Ukrainian-born pianist Stanislav Khristenko, winner of the 2013 Cleveland International Piano Competition (March 7, 2015); and the premiere of a Richmond Symphony-commissioned work by Benjamin Broening, chair of the University of Richmond's Music Department, alongside works by Elgar and Sibelius (April 18-19, 2015).
The symphony is also planning a second edition of "Warner Bros. Presents Bugs Bunny at the Symphony" (May 16, 2015, at the recently renamed Altria Theater, formerly the Landmark and the Mosque), and a Genworth Symphony Pops concert featuring the music of ABBA (Sept. 27, 2014). "It's important to look for ways to interact with different audiences," Smith says.
Other highlights include a commemoration of the 70th anniversary of the liberation of Auschwitz, on Jan. 27, 2015, in partnership with the Virginia Holocaust Museum and the Weinstein JCC, and a concluding event for the Virginia Sesquicentennial observances on May 25, 2015 — a musical exploration of the Civil War. As symphony Executive Director David Fisk says, "It is through music that we can inspire and unite our community."