×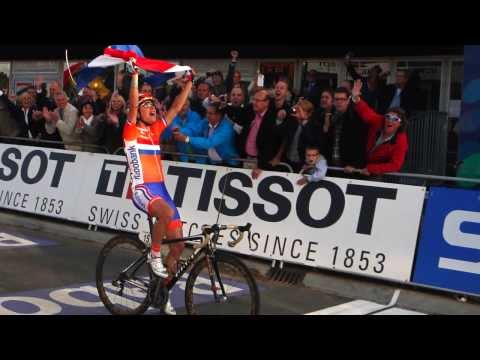 On her path to becoming a professional cyclist, Kathryn Bertine's pro status as an endurance athlete was a bit of a misnomer. As a triathlete, she still had to wait tables on the side to supplement her income. When she should have been resting from her workouts, she was spending long, exhausting hours on her feet. Then, when she became a pro cyclist, she still pulled double duty as a filmmaker alongside her racing career. Trying to eke out a living entirely on her bike, she notes, just wasn't feasible.
"We do what we have to because we love our sport," she says.
It was this reality that inspired Bertine to write and direct her film Half the Road, which documents the disparity between men and women in the professional sport of cycling. The film, featuring numerous interviews with female riders, fans, cycling administrators and even actor Patrick Dempsey, was shown last weekend at the Byrd Theatre as a part of the Richmond International Film Festival. (To read more about the festival, see Harry Kollatz Jr.'s interview with its founder, Heather Waters. 
Bertine's film seems apropos for the here and now, as the Richmond region builds momentum toward two major cycling events this year and next. It calls attention to the fact that professional women's cycling has yet to fully share the spotlight — meaning money, sponsorship and media coverage — that already shines on the men's elite level.
 "My ultimate goal is that 20 years from now someone can watch a movie like Half the Road and think 'Wow, they had to make a movie about equality in women's sports?' " Bertine says.
When Richmond hosts the UCI World Road Cycling Championships in September 2015, Bertine and other pro women cyclists hope that will change significantly. For starters, having the Worlds in the United States will help to publicize professional cycling to American audiences, as it is not as popular or as publicized as it is in Europe.           
"I think that it can create a platform to show that cycling in the U.S. has terrific venues, a great fan base and good understanding of what it takes to put on a high-level event," she says.
The UCI World Road Cycling Championships is one of the legs of cycling's Triple Crown, along with the Tour de France and the Giro d'Italia. Next year, an estimated 1,500 male and female athletes will compete for nine days in 12 races throughout the region, cheered on by the support of the 450,000 fans expected to flock to the event. The United States has not hosted the world championships since 1986, when it was held in Colorado Springs, Colo.  
This May, Richmond also will host the USA Cycling Collegiate Road Nationals to test out the courses and to allow officials to see the impact of the massive numbers of fans and make adjustments.
Professional rider Andrea Dvorak, who lives in Crozet and has ridden on the U.S. women's team, says that for women cyclists, the world championships event is "as big as it gets" and American cycling fans will get to see the U.S. women's cyclists as they continue to rise on the competitive  horizon.
In recent years, Dvorak says, "we've won big races. We had an American win the Giro D'Italia twice in the last three years. Another American won the biggest race on the World Cup circuit, La Flèche Wallone [in Belgium], so we're making a name for ourselves. And I think we have a really good chance to make the podium, if not win in Richmond. … I don't know if an American female has ever made the podium." 
Bertine says that when she speaks to people on the street and tells them she is a professional cyclist, one of their first couple questions is usually, "Have you raced in the Tour de France?" Most people, she notes, do not realize the Tour de France has not traditionally included an accompanying women's race for years. However, in July 2013, Bertine, joined by Olympic and world champion cyclists Emma Pooley and Marianne Vos and four-time Ironman Triathlon World Champion Chrissie Wellington, appealed to the Amaury Sport Organisation, which organizes the Tour de France. As a result of their efforts, a one-day women's race will now be included in this year's Tour de France. 
Giving professional women's cycling equal attention and support is not only the right thing to do, Bertine says, it's the smart thing to do because women's cycling is just a lucrative as the men's sport. "If our society already thinks we are equal, then why are we not seeing that in sports and multimedia coverage?"
Pro women's cycling has been caught in a vicious cycle, she adds, because media outlets treat the women's half of the sport as if there is not enough interest to broadcast it, and viewers never see enough to be aware of it.        
Also, she notes that pro women cyclists earn substantially less prize money than their male counterparts and their races are typically shorter. There are fewer races held for female professional cyclists compared to men's racing schedule as well.
According to Bertine, while male professional cyclists can expect a base pay of $29,000 a year, there is no base pay for the female athletes. Among U.S. professional female racers, she says, a majority of them earn below $10,000 a year — and 50 percent of women's riders earn less than $3,000 annually — requiring many of these athletes to rely on spousal support or to work two, or even three, other jobs to make a living, she says.  
Bertine loves the Richmond courses, and she describes the cobblestone switchback portion on Libby Hill as bringing a section of Belgium to Richmond. She also praises the kindness, hospitality and community involvement of Richmond 2015, the organizing committee of the event.
"The hospitality of Virginia and of the committee will make it easier for riders to have the easiest possible experience in terms of logistics," she says.
Bertine hopes to compete in Richmond in 2015, which would be her seventh time competing at the world championships.
"I think Richmond truly understands the value of women in sports, and they will highlight the value of women's equal to men's events. I think U.S. society is also in a place where they are accepting of women's sports. I expect the fans to be out and in full force for both the men's and women's racers in Richmond."
"We currently have more American women and men racing at the top levels of professional cycling than we've ever had before."