×
Photo by Alfred Wertheimer
In this photo by Alfred Wertheimer, Elvis Presley canoodles with a woman whose identity remained secret for more than a half century.
×
Elvis and 21-ArtStreet Miami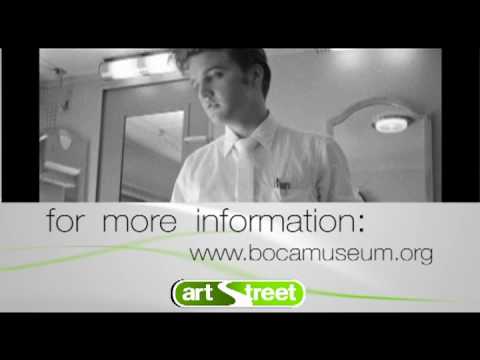 On June 30, 1956, at about 5 p.m. at the Mosque  (now Altria Theater), it was time for the first of two afternoon shows by 21-year-old Elvis Presley. Tickets were $1.50 to $2.50 ($14 to $20 in today's cash), and even at that, the place didn't sell out. Not everybody knew who he was: Presley's major appearance on The Ed Sullivan Show didn't occur for another three months.
New York City photographer Alfred Wertheimer, 27, assigned by RCA Victor to follow Presley, was granted access to the entertainer that soon wouldn't be possible. He shot in black and white; RCA execs didn't want Wertheimer using expensive color film on what they figured for a passing fad.
Presley arrived in town at Broad Street Station holding a battery-powered transistor radio given to him by RCA that he carried along, cranked up to country or gospel, his pants flapping in the breeze, the majordomo of his own parade. He was followed by photographer Alfred Wertheimer, who received complete access to the performer. Wertheimer's trove of images were collected in a book, Elvis 1956, and images from that collection were exhibited at the Virginia Museum of Fine Arts from late 2011 to early 2012.
I participated in a video following Elvis' footsteps on June 30, 1956, shot collaboratively with Richmond.com and the Virginia Museum of Fine Arts. You can watch it here.
I wrote about Presley's '56 appearance in a January 1996 feature. His '56 appearance here was his eighth in what would become a total of 15 Richmond performances.  
The identity of the blonde woman wearing rhinestone earrings, a black chemise and clear plastic pumps, who spoke with "a soft Southern accent," was at the time an open case.
Wertheimer didn't get her name. He recalled in 1996, "There were so many girls there, and Elvis hugged and kissed a good many." People like a good mystery, and Wertheimer seemed savvy to the notion. He even turned down an offer from Entertainment Tonight to conduct a nationwide search.
I followed leads from callers who insisted they knew the mystery girl, tracking down women in Maryland and North Carolina who only wished they were in that picture. One of them joked, "You can say it was me." 
Well, sleuthing reporter Alanna Nash — who'd been searching for the woman way ahead of me — got the break she needed and voilá, got the splash in Vanity Fair.
The VMFA show's star, besides Elvis, was Barbara Gray, the until-then never identified "Girl in the Picture" who touched tongues with the rocker in the darkened Mosque stairwell. Filmmaker and photographer Diane Keaton referred to the image (shown above) as "the most erotic photograph ever made."
If you want to get all shook up, here's a longer form video about the Smithsonian's traveling "Elvis At 21" exhibition when it stopped at Boca Raton, Florida.