×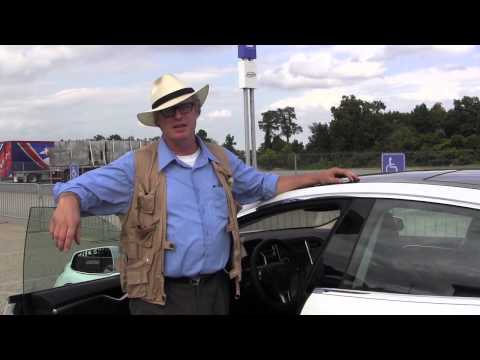 One of the more unusual elements of watching 40 battery-powered Tesla cars looping around the banked track of Richmond International Raceway on Wednesday afternoon was that the loudest noise came from their radios. The Tesla's tires running on the asphalt gave a golf cart-like hum — if golf carts could punch zero to 60 in a G-force yanking four seconds. I expected them to pop bright little energy hoops out the back side or perhaps electronically purr like the Jetsons vehicle. 
More than half of Virginians who own Tesla cars took to the track that late afternoon because the Palo Alto, Calif.-based automaker wants to sell the cars out of their own "galleries." Right now, Virginia law doesn't permit manufacturers, except in rare circumstances, from operating dealerships. Tesla was denied an exemption in April.James C. Chen, Tesla's director of public policy and associate general counsel, standing in the oval as the cars whispered by, explained that Tesla doesn't have state franchises, and its product requires some education (as I soon learned). At the Tesla gallery in Tyson's Corner, the company cannot sell cars or even discuss their price.  "They can go home and buy one on the Internet, but not there," Chen says.In part, the demonstration was conducted to impress state legislators that the Tesla is, like, cool. The cars are named for the Serbo-American inventor Nikola Tesla who devised remote control, radio, the step transformer that allows high power to enter all electrical devices without blowing them up and AC/DC current, among his more than 200 patents in electrical and mechanical engineering. So the next time you're using the remote to flip through an endless Netlfix queue, thank Tesla. Read my 1994 Richmond magazine article, about the Tesla Coil Builders of Richmond, Weird Science in Lakeside, here.
This isn't a business, legal affairs or environmental blog, but I will just say that U.S. Department of Transportation's Bureau of Transportation Statistics indicate 150 million "automobiles" on the roads, but also 100 million "vans, pickup trucks, sport utility vehicles, and other 2-axle, 4-tire
motor vehicles that are not passenger cars." That's about three self-propelled vehicles for each of our country's 350 million residents. And there's the whole petroleum issue — where it comes from, what processes extract the stuff and how much you pay for it. Which in a way gets us back to RIR where it was intriguing to see TESLA lit up big on the center Jumbotron as if NASCAR now ran on batteries.
A Tesla Model S sedan runs about $70,000, though the plan is to bring out a $30,000 version in the future. The company, started in 2003 by PayPal co-founder billionaire Elon Musk (whose name sounds like he's from a futuristic world, but, is actually from South Africa), is drawingcomparisons to Apple's Steve Jobs. But he also resembles Tony Stark. Tesla Motors went public in 2010. The company beat market expectations a couple days ago,announcing second-quarter profits of $26 million on $405 million in revenue. That's in part due to a government loan that Tesla has repaid.More on the car, its innovations and challenges, here. 
First, I was taken for a ride in a Tesla on the racetrack with Beau Whiteman, who manages the Tyson's Corner Tesla gallery. He impressed us with the car's incredible pick up, silence and smoothness.The experience reminded me of a new Rolls Royce I rode in years ago. The dash controls are touch screen and computerized. It's like a plush iPad you can drive. Tesla is also almost entirely made In America. The Fremont, Calif., manufacturing center employs 4,000 people. Almost everything from the aluminum body to the computer components are created stateside – except for the 18650 batteries that run it, although the bundles are assembled here. You can charge up at home, the car has a 300-mile radius, and currently nationwide there are more than 16 Tesla Supercharger stations. 
After taking a spin, I climbed into the fully loaded Series S sedan that goes for $105,000 — the most expensive and luxurious car I've ever misunderstood how to both enter and start. The control fob pops out the door handles. I resolved my legroom issue after I quasi-figured out the seat adjustments.  The front of the car is its trunk and in the back, a 21st-century rumble seat for the kids. No transmisssion. The electric moter, underneath the car, is about the size of a watermelon.
Of course, I'm an excellent driver  — on the straight away. I want you to know that the cones shown knocked over in the video got that way before I arrived — and I immediately drove off the course.
Though I'm passionate about my pedestrian pleasures, I took great delight in the Tesla and drove with boyish élan. Wish I'd had the roadster version in my dating days. I wouldn't have needed to reveal that I never learned to drive stick. 
Tesla: It's the way of the future.