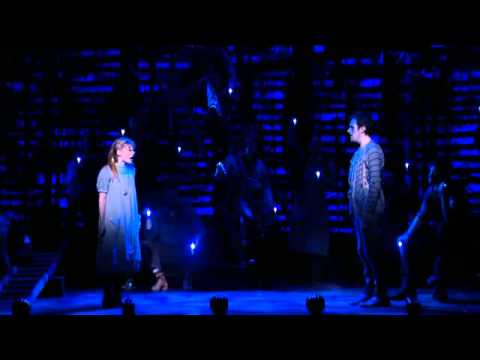 Virginia Repertory Theatre's next season begins this fall with the Tony award-winning Peter Pan prequel Peter and the Starcatcher and includes the musicals Gypsy and Dreamgirls, as well as a little-known Italian comedy (Saturday, Sunday, Monday) and Tennessee Williams' Summer and Smoke.
In announcing the lineup during an open house Saturday afternoon, Virginia Rep's artistic director, Bruce Miller, said, "We struggle for weeks and months to figure out the right shows" for the audience, for the budget, for the company and for the city. Based on the 2006 novel by Dave Barry and Ridley Pearson and adapted by Rick Elice (also co-writer of Jersey Boys), Peter and the Starcatcher should appeal to adults as well as children, Miller says. The play, which will run from Oct. 1 to 25 at the November Theatre, tells a different story of how Peter became "the boy who never grew up."
The hit musical Gypsy, first performed on Broadway in 1959 with Ethel Merman in the lead role and revived several times on the Great White Way, is based on the memoirs of striptease artist Gypsy Rose Lee. It will fill the holiday slot (occupied this past year by Mame), from Nov. 19 to Jan. 10, 2016.
For Saturday, Sunday, Monday, Virginia Rep will work with its restaurant partners to fill the theater with the aromas of a genuine Italian feast that's central to the action onstage — a Neapolitan ragu sauce made with roast veal, onions, garlic and tomatoes. Miller has been captivated by the Eduardo de Filippo play since he saw it at Arena Stage 40 years ago. Describing it as a relationship comedy, he urged those in the crowd to spread the word and bring friends, since "no one's ever heard of it." Because it's been performed so rarely in the United States, Miller says he thought that it would be easy to obtain the rights, but he had a scare when the company learned that the rights might not be available after all, because of plans to stage the show on Broadway. The show will go on, however, from Feb. 11, 2016, to March 6, 2016.
The Tennessee Williams play brings the theater company back to its roots, Miller says. Stewart Falconer, one of the six founders of Barksdale Theatre, left a job as a stage manager for Summer and Smoke off-Broadway at Circle in the Square Theatre in New York City to help purchase the Hanover Tavern and form a theater group in Richmond. Though not performed as often as Williams' The Glass Menagerie, Cat on a Hot Tin Roof or A Streetcar Named Desire, it was developed into a film in 1961 (starring Laurence Harvey and Geraldine Page) that garnered four Oscar nominations. "It's my favorite Tennessee Williams play," he adds.
Summer and Smoke is set for April 21, 2016, to May 15, 2016, to be followed by Dreamgirls from June 23, 2016 to Aug. 7, 2016. "We were so proud of our production of The Color Purple [last summer]," Miller says. Also under consideration was the Tony-winning In the Heights, but Dreamgirls ultimately won out.
At Virginia Rep's Hanover Tavern stage, the next season will start with the regional debut of The Fabulous Lipitones, a comedy by John Markus and Mark St. Germain about an aging barbershop quartet that welcomes a Sikh as a replacement for its lead singer (Sept. 18 to Nov. 1). In announcing the Hanover Tavern lineup, Virginia Rep's managing director, Phil Whiteway, noted that Markus was a longtime head writer for The Cosby Show. Next up will be This Wonderful Life, starring Scott Wichmann in a one-man adaptation of It's a Wonderful Life (Nov. 27 to Jan. 3, 2016); the Tom Jones-Harvey Schmidt musical I Do! I Do! (Feb. 26, 2016, to April 3, 2016); and Neil Simon's Brighton Beach Memoirs (July 15, 2016 to Aug. 28, 2016).
Coming to Virginia Rep's Children's Theatre next year will be The House at Pooh Corner (Oct. 14 to Nov. 15); The Velveteen Rabbit (Dec. 1 to Jan. 3, 2016); I Have a Dream by the company's own Bruce Miller (Jan. 27, 2016 to Feb. 14, 2016); Croaker: The Frog Prince Musical, with book and lyrics by SPARC's Debra Clinton and music by Jason Marks (seen covered in green last spring in Virginia Rep's Shrek the Musical); and The Little Engine that Could, the beloved children's story (July 8-31, 2016).