×
Photo by Harry Kollatz Jr.
Verlon Vrana's boat Dido on her last night in his Boulevard apartment
×
Photo by Harry Kollatz Jr.
The boat's hull under construction in 2013
×
Photo by Harry Kollatz Jr.
A tag from the first lumber order, which is when Vrana started building
×
Photo by Harry Kollatz Jr.
Temporary mascots. Popeye rescues Olive.
×
Photo by Harry Kollatz Jr.
Dido's proud builder — and captain
×
Photo by Harry Kollatz Jr.
The rudder assembly and temporary cushions to keep her safe.
×
Photo by Harry Kollatz Jr.
Vrana and crew celebrate Dido's first moments in daylight.
×
Photo by Harry Kollatz Jr.
Dido's appearance caused a double-take from passersby.
×
Photo by Harry Kollatz Jr.
After all that, she's prepared to slide into her awaiting carriage...
×
Photo by Harry Kollatz Jr.
Red warning pennants are soon to get attached.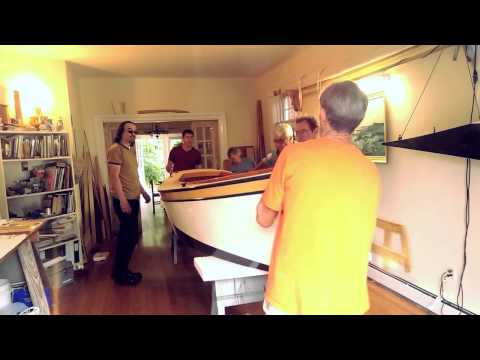 A man builds a boat in his Boulevard apartment's living room. It takes him just over two years. Then on a humid, overcast August late afternoon, he and a few friends lift her off the sawhorses serving as her gantry, turn her on one side and heft the craft outside, over a fence rail and guide her to rest on the grass out front. The builder, assisted by the crew on hand, puts up the 20-foot-mast and rigs the sail. The effort causes some second and third looks by joggers, and a few motorists slow down to make sure of what they're seeing.  
The boat's maker, Verlon Vrana, a Nebraskan native of Czech extraction, graduated from the arts program at Virginia Commonwealth University 45 years ago this fall. He was, he says, on the five-year plan. Afterward, he strapped on a tool belt and has worked with his hands ever since.
 He became adept at building elaborate show kites that earned him a 1980s exhibition at the Science Museum of Virginia. "You build one of those, put 40 hours into it, and you know it's going to eventually crash into splinters," he says. He developed an interest in boat building, including large model sailboats that he could take to Shields Lake at Byrd Park and larger bodies of water. And he's come to a realization: "I like building them almost as much as like sailing them."
Much of the materials originated locally. The Douglas fir and marine plywood came from Siewer's lumber. The teak tiller was salvaged from a boat once owned by friends Bill and Bunny Creekmur. The canvas sail came from Dabbler's Sails of Wicomico Church.
"I'm a carpenter by trade," Varna says and deadpans, "I had many of the tools and it gave me a really good excuse to buy more tools, which a guy is always looking for."
***
A man builds a boat in his living room, and I walk every other day past the French doors open to the porch and curious passersby. The parted doors invite, wanted or not, curiosity. And I can see that it's definitely the form of a boat — it is not some clever furniture or bar.
I've known Verlon from "around," as they say — we'd see each other at various places and talk on varied subjects, but I didn't know he lived close by and certainly didn't have any idea of his skill and talent. Since August 2013, when I first rapped on the door jam of the porch portal, I've periodically checked in, taken pictures and written notes.  
In her roughened work-in-process state, I was reminded of boats from Winslow Homer paintings. "Those were a bit wider in the stern," Vrana told me, and explained, "This is a modern version of a classic little skiff. [It] could be called a flatiron skiff, you know, that were used from all the way up to New England and down to the Carolinas. A fairly classic little boat. I've modified it a bit, put some rocker in the stern, so that dresses it up a little bit. It might improve the sailing qualities."
The basic design for the boat came out of The Sharpie Book by Reuel Parker. A "sharpie" is a long, narrow, flat-bottomed craft that is relatively uncomplicated and inexpensive for the living room boat maker. 
Six years ago, Vrana constructed a 20-foot, two-masted vessel in the backyard of a previous residence. The experience taught him a number of lessons, one of which was to next time build under cover. All he had there was an awning, and since epoxy is sensitive to high and low temperatures, work stopped and started more than Vrana preferred. "It was fairly damn miserable. In the heat of the summer I had to shut down, and in the cold of the winter I had to shut down. So I walked into this place a little more than two years ago. I already had a set of plans that I was drawing on and I saw this room as big enough for me to build a boat."
The size was right, but epoxy fumes and primer dust presented different challenges. 
He settled on the 14-foot length to get around the hassle of a trailer. He can slide the craft into the back of his 1991 Ford F-150 Lariat. Pennants tied to the boat's stern should give good warnings to anyone approaching. 
The scene on Sunday afternoon reminded me of an art opening, which, in a real way, it was, and the coming out party, too, of Verlon Vrana's boat. There was champagne and finger sandwiches and a spirit of anticipation.
When I first spoke with him about the project, he'd not yet named the boat. He ultimately decided on Dido, for two reasons. First, she was the legendary founder and first Queen of Carthage.
Dido traveled much by boat, mostly running from enemies, and she fell deeply in love with her first husband, Acerbas (the poet Virgil converted this into Aeneas), and to avoid marrying another king she killed herself. The epic tragedy has inspired theater and art.
Vrana enjoys describing how as a verb, "dido" is a trick or an elaborate maneuver, "like a fellow doing curlicues in an airplane — my Nebraskan parents call this a 'stunt,' " he laughs. He's not painting the name onto the stern until the boat has made a good few sails, perhaps on the first leg of his three-stop voyage planned possibly October: Richmond to Hopewell, Hopewell to Jamestown and Jamestown to the Mariners' Museum in Newport News. His greater mission is in part to draw attention to the condition of Richmond's riverfront around Ancarrow's Landing.
Ancarrow is named for the pioneering river conservation activist, Newton Ancarrow. In the early 1960s, he tried establishing his boat-building business on that site and ended up in a prolonged battle with the city about the state of Richmond's riverfront.  
 Vrana was heartened to learn just by turning on his radio to WRIR that a few days from now on Sunday, Aug. 24, a community effort to clean up Ancarrow's Landing will be enhanced by a water ballet performed by our own River City Magnolias. "That's the kind of coincidence I love," he remarked.
Vrana also envisions the establishment of a training program for youth, possibly in the vicinity of Ancarrow's, to demonstrate that it is possible for a person to build a boat. Part of the point of this exercise is to show that a boat can be built within a small space and, with a team (or even alone), it can be assembled and prepared for sailing. 
Getting Dido out of the living room required well-measured planning and coordination. Before the operation began, Vrana removed the French doors and taped padding bumpers on the jambs and cushioned the fence rail. He instructed his assistants on how to tip the boat over to bring her out. With the hands of the Creekmurs, Mark Atkins, Jason Cleve and Terry Wolfrey, Dido emerged from the building.  As they began, the Debussy's Greatest Hits CD that Vrana put on swelled into the composer's great Le Mer – The Sea. And in this way, Dido was piloted through the doorway and into her first day outside. 
This is how the procedure went: An unidentified passerby came along at the exact right moment. He was apparently a father walking with his daughter — a new VCU student — who admonished, "Watch out, Dad, watch out!" In the end he declined a beer and drawled, "No problem at all."
(See video above.)
"What will you do with all this space?" a neighbor asked. Vrana joked, "I'm thinking a disco, maybe." Then he added that he's received a commission to build a 20-foot mast, work that he enjoys, "It's got a Zen quality to it; a mast is tapered at both ends. It's hollow. Then I have this three-hands-handed down couch I want to convert into a Stickley-style." 
Dido's mast went up and was rigged, and for about an hour, her graceful yet incongruous presence caused smartphone picture-taking and the curious glances of pedestrians. Then Dido fulfilled her designer's intention by sliding into his truck. 
When I sat with him afterward, gazing at Dido's stern poking from his truck, he winced a little and shook his head. "My back hurts, but not from lifting the boat," he said. "But from cleaning the place for everyone to come over."
Yesterday, she took to the water for the first time, and I was there to record the event. We'll soon show Dido's first taste of the water and sand.