×
Special Collections and Archives, James Branch Cabell Library, VCU Libraries
Col. Abraham Archibald Anderson standing by his work and his own sketch of his concept of how the building he assisted to rehabilitate should look.
×
Harry Kollatz Jr.
A portion of the installation for Lucy L. Derickson's "I look forward to seeing you, or for the first time."
×
photo by Harry Kollatz Jr.
The Anderson's Gallery steps with Amber Marie Smith's "Lullaby" beyond.
"I look forward to seeing you, or for the first time," goes the title of a large array of repurposed pewter serviceware used in a thesis piece by Lucy Louise Derickson, Virginia Commonwealth University graduate student in Craft/Material Studies. Her work marries some of the oldest style of craft with the newest means of communication. Derickson created pieces for each of her then approximately 500 Facebook friends.
Harry Kollatz Jr.
One piece from the Lucy L. Derickson installation, "I look forward to seeing you, or for the first time" resembles a mobile phone's camera."
Like many of us, some she knows better than others — and yet in the patois of the social network, they are described as "friends." In the real flesh-and-blood world, those relationships are built over time and though shared experience.
I don't know if Derickson was aware that her assemblage would be among the last work t to receive formal exhibit here. The Anderson Gallery closes its doors on Monday, May 18, when this exhibit gets taken down. 
The walls will remain bare for an indeterminate time.
photo by Harry Kollatz Jr.
Amber Marie Smith's "Lullaby"
While the university repurposes the elevator-less Anderson for studios and classrooms, the gallery's art collection is getting sent up Shafer Court to the expanding James Branch Cabell Library. Future exhibitions of student work will be handled by The Depot building at Laurel and Broad and the presentation of new art from the outside world is the mission of the Institute for Contemporary Art, now scheduled for completion next year at Belvidere and Broad.
When you walk into the first space in the Anderson, what you see is the fantastical furniture of "Lullaby," made by Craft/Material Studies candidate Amber Marie Smith. When you move, you haul stuff — dressers, pictures, the furnishings of personal space — just as what must occur for the small Anderson staff.
Here is a crazy bureau with a set of steps, a portion of a bedstead inside and frames leaning against it. The short flight of steps echoes the nearby stairs of the gallery, with treads that are worn in the middle from the tromping of feet from decades of exhibition openings and special occasions.
Richmond magazine's "Picture This" page in November 1998 included a few images from the Pollak honors event that September.
One of the latter was the first ceremony for Richmond magazine's Theresa Pollak Prizes for Excellence in the Arts.
The Lioness
Beginnings are heralded by possibility, while endings shuttle us to memories of the in-between.
Director Ashley Kistler first interned at the Anderson Gallery in 1982. In her later positions at the VMFA and the Hand Workshop (now the Visual Arts Center of Richmond) she engaged in active collaboration with the Anderson. Now, her seven years as director are ending. "The staff here did the best they possibly could, given the challenges presented by the space and the resources," she says. "I think we did well here."
A commemorative book about the Anderson's history is in the works.
The Anderson Gallery is named for Abraham Archibald Anderson (1847-1940), one of 10 children, an adventurous spirit, rancher, early aviator and world traveling businessman, painter and in 1890 founder of the American Art Association of Paris, which helped expatriate artists to get their footing in a foreign land.
That same year, he committed to canvas a likeness of Thomas Alva Edison that is today displayed in the National Portrait Gallery in Washington.
Anderson, as once was said, married well. Elizabeth Milibank was the heiress to her capitalist father Jeremiah's fortune. Together, the Andersons became philanthropists who divided their time between New York and Paris.
Special Collections and Archives, James Branch Cabell Library, VCU Libraries
Col. Abraham A. Anderson gazes with a sense of dash from the frontispiece of his autobiography.
Abraham picked up the honorific "colonel" through President Theodore Roosevelt, who commended Anderson for his assistance as the first Special Superintendent of the Yellowstone Forest Reserve that grew out of Anderson's Wapiti, Wyoming, ranch.
In Anderson's obituary, it's said that he "cleaned out the Jackson Hole country, which he declared was filled with rustlers, convicts and desperadoes."
Anderson exudes sophistication and a bit of what was once referred to as "dash" in the formal portrait in his memoir, Experiences and Impressions. The face matches the story he tells of a solo exhibition he mounted at the request of the Union League Club of New York. 
Special Collections and Archives, James Branch Cabell Library, VCU Libraries.
"The Lioness" (detail). reproduced in Anderson's autobiography.
His show featured landscapes, portraits, still life paintings – and The Lioness. This last referred to a life-size view of a nude woman reclining belly-down on a lion skin. She regards the viewer with sleepy eyes gazing over her wrist as though you just woke her. Anderson recalled getting accosted by an "elderly gentleman" who asked Anderson "what first induced" him paint a nude woman.
Anderson replied, "Will you please tell me what first induced God to make one?"
 'He then said, "But why did you paint her on a lion skin?'
"I replied, 'Oh, I thought a bare skin and a lion's skin would make a good zoölogical  contrast.'
"He asked no further questions.'"
'Nothing Like It Before … In the Field of Art'
Not long thereafter, Henry Hibbs, president of what was then termed the School of Social Work and Public Health of the College of William and Mary at Richmond, managed to meet Anderson during discussions about the use of his property that became Byrd Field. Hibbs recognized the value of art in rounding the character of a person, and he was also skillful enough to negotiate between Anderson's vanity and his genuine passion for artistic endeavor.
Anderson gave $10,000 toward the organization of an art gallery at the school, and Richmonders pitched in $24,000. Hibbs chose to overhaul the stables behind the former mansion of Maj. Lewis Ginter. 
That urbane residence was at the time repurposed for the Richmond Public Library. The construction of the main branch on Franklin Street allowed the school to acquire the Ginter mansion and its attendant buildings.
Special Collections and Archives, James Branch Cabell Library, VCU Libraries
Architect Charles M. Robinson's plans for remaking the Ginter stables as an arts space.
Due to the high ceilings, the stable's second floor hayloft became a gallery and the first floor a library. In-demand Richmond architect Charles M. Robinson conducted some alterations to the structure.
The first exhibition in 1931 was of Anderson's paintings.
The Lioness made her appearance, but if Anderson received any querulous response as in New York, he didn't say. A painting of Anderson's late mother moved at least one Richmonder:  a "sweet faced, gray-haired lady" who placed a dozen roses beneath the  portrait.
From Anderson's "Experiences and Impressions," Special Collections and Archives, James Branch Cabell Library, VCU Libraries.
Anderson's portrait of his mother invited a gift by an appreciative Richmonder.
From a story Anderson tells, it's understandable where he got his sense of humor. One evening during a visit home from Paris, he tried to continue a custom he'd learned there of eating a breakfast roll and coffee in his bedroom. When he informed her of his intention, Anderson's mother quipped, "You can have your roll in bed, but if you want your coffee you will have to come downstairs."
Anderson's memoir includes Hibbs' extravagant praise.
"We have had an unprecedented amount of favorable word of mouth publicity since the exhibition started," Hibbs enthused. "Nothing like it has happened here before in the field of art.
… The people here certainly like the pictures. Many return again and again. I have never heard anything that I have worked on, in the 15 years I have been here, so highly praised and so universally pleasing to all."
In the first week of the show, some 1,600 people attended, including then-Virginia Gov. John Pollard.
'… The Last of his Tribe.'
To understand the artistic climate of Richmond in the first decades of the 20th century, you must erase almost all of today's galleries and exhibition places and even the Virginia Museum of Fine Arts.
(From his autobiography, Special Collections and Archives, James Branch Cabell Library, VCU Libraries.)
"Vanished Tribe" was Anderson's paean to the maltreated and exiled American Indian.
Hibbs wasn't just a flatterer and the 1,600 people who trooped during the first week up to the former hayloft went for a reason, whether to peep at The Lioness, or Anderson's mom, or his version of the "ghost riders in the sky."
Anderson, who felt for the plight of the Native Americans, dedicated a painting and a rather awkward poem inspired by his time spent among the Crow. An Indian stands on a butte, gazing toward a sunset and the clouds and light play together to make a vision of the vanished members of the tribe who were shoved off their lands and massacred. His concluding verse:
"Afar in the distance he sees them ride,
photo by Harry Kollatz Jr.
Kelley Morrison's "Thank You For a Lovely Time."
As he stands alone, the last of his tribe."
Doors of Perception
Kelley Morrison, another Craft/Design graduate student showing on the Anderson's second floor, made a quiet but lively little place from reclaimed doors, steel mesh, wire and wallpaper. It's a roomlet, a wallpapered photo booth, where I took on my own picture. She titled the piece, Thank You for a Lovely Time.
I've had many lovely times here.
I met Yoko Ono in 1996 for her Fly exhibition — which involved billboards with that one word outside and a pile of rocks inside that the staff and volunteers carried upstairs. When I recently spoke with her for an interview, she sighed, "Oh, that was so long ago. You know, Richmond interests me. Historically."
photo by Harry Kollatz Jr.
Harry Kollatz Jr. within Kelley Morrison's "Thank You For A Lovely Time."
Like Ono, Davi Det Hompson was a member of the Fluxus movement, and when Fly opened on the first two floors, Hompson had the third, with his collaborative multimedia installation, WRDZ.  Eight weeks later, while jogging, he died of a heart attack. In 1999, the Anderson was one of five galleries that staged a multipart retrospective of his work.
Also memorable was when playwright Edward Albee suddenly appeared over my shoulder at a 2000 sculpture show he curated to ask, "So, what do you think?"
I remember artist Richard Carlyon gliding down those steps during various openings, and in 2010, the huge retrospective show after his 2006 death that included a recreation of his studio.
 I've seen work from here and everywhere else. I've crawled into things and I've lain on my back to watch shapes transmute themselves across the ceiling and enjoyed the occasional communal marvel when hunkered into a dark corner at some kinetic construction that whirred, or buzzed and surprised.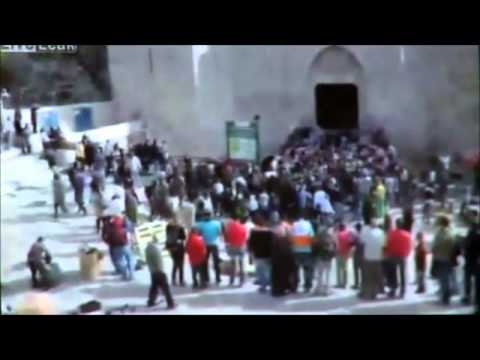 An 11-minute piece by Israeli video artist Guy Ben Ner  that adapted the soundtrack of Steven Spielberg's War of the Worlds to strife of a more domestic kind stuck with me for a long time. Here's an excerpt.
I experienced the performance power of  Antonia Fd and Jonathan Vassar  and any heard any number of musicians there during informal art fellowship gatherings. And it was free. Just for the walking in, you could travel to distant lands and altered perspectives.
VCU Anderson Gallery Collection.
"Crisis," by John Slavin, reproduced in the Catalog of the First Exhibition of Virginia Artists.
Art Movements
When the Anderson opened, Richmond didn't possess many places that showed old or new, traditional or modern art. The VMFA came into being out of a 1930s contest for arts supremacy. Adéle Clark provided the motive force for the independent and always struggling Richmond Academy of Arts. She, with Nora Houston and other artists, staged exhibitions, competitions and all night parties at the Jefferson Hotel to raise funds and awareness. They held the first ever exhibition of Virginia artists at the Anderson. Many of the works were also for sale – amid the Great Depression.
Whatever creative challenge John Slavin was going through, he did so barechested, exhibiting a form of artistic brio and maybe a pun — political and/or physical, with his Crisis. It could've been yours for $700 — today almost $11,000.
Slavin in his heyday earned some $50,000 a year for his portraiture back when it was real money. But by 1969, he was going through a personal crisis with which many artists can empathize.
Special Collections and Archives, James Branch Cabell Library, VCU Libraries
Richmond Professional Institute students in the periodicals section of the school's library at the Anderson, 1965.
The Commonwealth of Virginia ultimately overran the Richmond Academy idea by using federal Depression relief incentive funds to build a museum that opened in 1936.
 Clark later recalled that after creating the environment that made the VMFA possible, "The Academy of Art was swallowed up into the Virginia Museum of Art, but contributed very heavily both by personnel and activities in getting subscriptions to the museum."
Metal sculptor Tom Chenoweth, a VCU grad student in 1975, found room at the Anderson to show this colossal "Anyway The Wind Blows," photographed in the Richmond Mercury.
The Anderson Gallery got a third story in 1939 and a fourth in 1947. But by then, the entire building was repurposed into the growing Richmond Professional Institute's library.
The James Branch Cabell Library opened in 1970, which allowed the Anderson to return to its intended role as an exhibition space. 
Hope Remains
Now, the assortment of paintings, prints and other works accumulated by the Anderson will go to that same library bearing the name of the author who expressed this sentiment in his 1919 novel Beyond Life: "And while it is well enough to leave footprints in the sands of time, it is even more important to make sure they point in a commendable direction."
Cabell elsewhere in the novel that is essentially an extended soliloquy of his alter ego, the revered writer John Charteris, reflects on life's contradictions and the challenges presented by art. "We are all of us, as if by instinct, intolerant of that which is unfamiliar. We resent its impudence, and very much the same principle which prompts small boys to jeer at a straw-hat out of season induces their elders to send missionaries to the heathen."
The door of Sponge HQ, third floor of Anderson Gallery (photo by Terry Brown)
One part-time resident of the Anderson who'll not be packing up, at least for the time being, is artist and VCU professor Hope Ginsburg. Her "Spongespace"  is an ongoing collaborative endeavor. The project moved to the Anderson five years this August with an official opening in August 2010, to host the Colablablab course. 
Ginsburg, via email, provided a valedictory: "It is a bittersweet transition as without the Anderson Gallery and Ashley Kistler's extraordinary leap of faith, the HQ might still be a glimmer in my eye. The 'Sponge' had been peripatetic until Ashley's invitation (this mobility not at all appropriate for a project based on the sea sponge, which has the distinction of being the only adult animal that does not move.)
"The schoolroom vibe of the space and its slightly remote third floor location allowed this unconventional pedagogical project to thrive. And the student participants and I found ourselves in the most extraordinary community, supported by [Head of Exhibitions] Michael Lease and [Gallery Coordinator] Traci Garland of the Anderson and in constant interaction with the stellar staff of student workers (some of whom joined the Sponge fold themselves and all of whom pitched in to feed the fish.)
Photo by Heidi Neilson
One of Sponge HQ's collaborative efforts: "Weather Mass Movement," by visiting artists SP Weather Station.
"From our 'balcony' spot, we had an excellent view of each show as it landed, installed and ran, each seemingly more ambitious than the next.
We of the Sponge were incredibly fortunate to have been hosted by the Anderson Gallery. I'm verklempt to see it evanescing. And, I'm curious and eager to see what springs up in its wake.  So, we'll hold down the fort at the HQ and do what we can to usher in the next generation of endeavors at 907 1/2 W. Franklin."